Gold Member

A buddy and I decided to hit a place we have hammered over the last year. We have found a lot of nice items in the place, including three Eagle Breastplates, two Union Cartridge box plates, and one US belt buckle, Several of these have been found in the last month. We have also found minies, a few buttons including one Confederate block I, some silver and copper CW period coins, broken spoons, etc. The place was evidently used as a picket post, we think after the Battle of Gettysburg. The place is not on any known maps I have seen, so there would have not been any reason to LOOK for anything there. It just so happens good friends of mine bought the farm, and didn't mind us looking for stuff there. On two recent occasions we invited a small "herd" of local club members and Tnetters to the site and everyone got something, which was nice.
Today, it had rained. It was very foggy and that hard rocky soil was ALMOST thawed out. We decided to hit it a few hours just to see what we could find, as we have over 100 man hours on the farm, and finds are getting scarcer. Just a week ago we finally got permission to hit the grassy areas. First thing, I pulled a man's sterling wedding ring from the grass, and then an aluminum can, and another aluminium can, then another and then the pulltabs. It was looking dismal so that hunt a week ago was over.
So back to today, my digging buddy beat me to the site, we were also looking for the property markers but the ground in that area was still frozen. We didn't find them. He tried digging what appears to be an ash pit, but it was also too frozen. He finally found one minie ball.
We both finally started moving back to the grassy areas, and I got about five aluminum cans, we were digging near the "new" driveway, which used to be the "old" farm road.
After aluminum target #6, I got another similar signal, this one sounded a little different. I was down about 8" and it was so blasted rocky, I called my bud over as I wasn't in serious "detecting" mode, I was just in "exploring" mode. I had left my pinpointed in the truck and was too blasted lazy to go get it. So he shoves the pinpointer in the hole, and it almost immediately sounds off. I didn't see the telltale signs of aluminum, but a US plate was found about 10' away in the field, so I advised caution, it might be another breastplate. He grabbed hold of something definitely not silver colored, and as he pulled it out slowly I saw it was rounded and dark colored. I first thought it was another breastplate, but it was too small. When he got it out of the hole, I knew it was a wreath style wreath thingie. I didn't know what it went to, but these were used before and after the Civil War and some aren't even military. I know what I know, and everything else I have to research. I hadn't even touched it yet but had never dug one of these and was feeling quite pleased. I did NOT do that OMG, run around in circles, swear by whatever you swear by, I just stood there. Now, dung for brains here checks the holes normally AFTER I fill them in but suggested he run the poinpointer over it again. There was another signal. Yup, you guessed it. One more inch down in the muddy, sloppy rocky dirt he reaches in and pulls out something else round. It's dirt encrused, duh, and at first I didn't see what, if anything was on it. He turns it over, takes a couple dirty, wet wipes on it and I see a "CS" staring back at me. At this point I did NOT do that OMG, run and around in circles, freak out thing. I walked two steps to the nearest tree and tried to throw up. That's what REAL diggers do. Enough is enough. Here's a picture. Will get it cleaned. Whenever. Maybe soon. Right now I need a Tylenol and an antacid.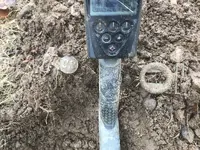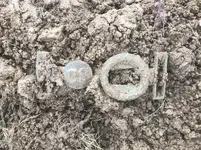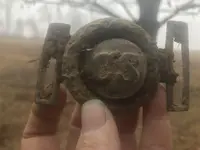 BTW the Deus got REAL dirty, but the target is what I call a "softball" and any machine would have found it.
Last edited: