Sr. Member

Just wanted to share a few things about Karl von Mueller that I've ran across. These all reveal a bit more about his life and his accomplishments and also suggest his involvement with the LUE. The first is a brief write-up he received in Western/Eastern Treasures where he wrote for at least 10 years as a regular contributor of the "Ask Exanimo" column. This was a column that also ran in Treasure World (which at the time was also owned by Western/Eastern Treasures) but originated (as best I can tell) in Karl's own publication, the National Prospector's Gazette.
The second article I'm posting is from the same issue of Western/Eastern Treasures and is a write up written by Karl's daughter Louann Russell.
The third article was Karl's biography as it appeared in A.T. Evans' "
TREASURE HUNTER'S YEARBOOK 1970 - '71." Evans published his own paper, The Prospectors Club International newsletter, for a good part of the 1960s before selling the operation. Karl's was a regular contributor to this newsletter in its early years as well doing the "Exanimo Looks at Books" column that he would later print in the National Prospectors Gazette as well. My assumption is Karl wrote the biography that appeared in the Yearbook. The original was a single, unbroken entry...one of the longest in the yearbook. I have taken the liberty of inserting some paragraph breaks for ease of reading.


---
W/E Treasures June 1990

LETTERS & LEGENDS


​
Normally I do not run letters on the Editor's Page. The usual place is in the Mail Treasures department. This letter from Gary Christopher is a concise way of expressing the overall feeling our staff and readers have about Karl von Mueller's passing.

Dear Editor: This is to inform you and your readers that Karl von Mueller "The Father of Modem Treasure Hunting" died on January 27th, 1990. Without Karl, the treasure hunting hobby never would have developed into the fine hobby it is today. His wisdom and his books on treasure hunting, prospecting, and owlhooting were the bibles for our hobby.

His family says they will continue to sell his books but without Karl, our hobby will never be the same, and I will miss him. Sincerely, Gary Christopher The Prospectors Cache Englewood, Colorado

There is a farewell feature about Karl, as promised in the May editonal, on page 14 of this issue. Many thanks to Karl's daughter, LouAnn Russell, for all of her help, and for the memorable photos. I know you will all appreciate them.

In closing, there is a letter in this issue's Mail Treasures on the passing of Harry Bodofsky, Vice President of the Federation of Metal Detector and Archaeological Clubs. It is a fine tribute to a one-of-a-kind gentleman. There is also information of where to send contributions, in Harry's memory, at the end of the letter.

Respectfully yours, Rosemary Anderson


---

A Note From The Managing Editor: When LouAnn, Karl's daughter, called our office with the sad news about her father, we asked if she could send along some pertinent information and a few photos of her dad. We received this lovely tribute and decided to run it in its entirety. I would like to add what a loss it is to the treasure hunting community to have to say farewell to Karl. As his granddaughter, Lisa Craig, wrote, "Rather than say goodbye to grandpa, I'll say as he always did ... Exanimo!"

In lieu of flowers, contributions in honor of Karl may be made to the FM-' DAC. Karl was a true believer in fighting to save the profession he so dearly loved.

Karl's Ask Exanimo column will continue to run for a limited time with questions and answers on hand. From the entire staff of Western & Eastern Treasures and myself, Exanimo, Karl.

Karl von Mueller was born Charles Dean Miller on February 3, 1915 in Minden, Nebraska to Jacob and Matilda Miller. He graduated from Minden High School. One of his favorite teachers was Carl Curtis, a U.S. Senator for many years from Nebraska. Karl would laugh at how Senator Curtis gave him his last whipping in school when be was in the eighth grade.

In 1937 Karl met and married Gladyce Johnson, who was to be his companion for 53 years. They had two children, LouAnn and Dean. He was a proud grandfather to five and a great grandfather to two.

Karl was a private person to both his family and his friends.. That was the advice that he always gave to treasure hunters, to be careful with information that you share with others. For that reason, little is known about his treasure hunting years.

Throughout Karl's life be enjoyed writing. In his earlier years be was a technical writer of military aircraft. After spending several years in California writing, be began job shopping, living in several states and working temporarily for various companies with military contracts. His biography appeared in Who's Who In Science.

Eventually, be was able to devote fulltime to writing about one of his two loves, treasure hunting. He used several pen names, one of those being Deek Gladson. At the time of his death he had just completed another book that was ready for the publisher.

He received many honors throughout his life. For him the honors that meant the most were the sincere friends that he met from his treasure hunting. In the 60s, he was flown to New York City and appeared on "To Tell the Truth." He was easily identified because of his knowledge of the Dutchman's mine.

His other love was western history. His interest was probably cultivated as a child when his mother told him about Buffalo Bill's wife coming to his grandmother's home when Buffalo Bill would have them leave for a while. Throughout his life be absorbed any book on the old west and was considered most knowledgeable by those who wrote on western history. His biography also appeared in Who's Who in the West.

Nature was always a friend of Karl's. He loved animals and usually made a friend of those that would let him. At his daughter's home the squirrels always knew when he was visiting. He loved flowers and his garden. All of these things he talked about in his daily conversations.

For the last 25 years he lived in Colorado. His description of his writing and publishing establishment was the little one-man and mule printery in the miserable little ghost town of Segundo, Colorado, in the valley of the Purgatory River in the foothills of the Sangre de Christo range of the Rocky Mountains. He loved his home place and enjoyed every minute that he was writing.

His books will continue to be printed. His granddaughter, Lisa Craig, is planning to have manuscripts that he had completed published. Also, the books that have been available will continue to be available.

Karl died January 27,1990 in Segundo of a heart attack. Services were held for him in Weeping Water,

Nebraska. LOUANN RUSSELL is the daughter of the late Dean Miller aka Karl von Mueller aka Examino.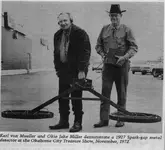 ​
---
von MUELLER, KARL; Exanimo Establishment, Segundo, Colorado 81070. One of the best known, and most widely read contributors of information and techniques relating to the field of treasure hunting.

Started relic hunting at Fort Kearney, Nebraska, in 1931-32, by looking for buried guns and jewelry. Started finding money caches in the Oregon Trail campgrounds. and thus began a career as a treasure hunter. Hid most of the loot and toured western states by bus, train and airplane.

Returned to Nebraska to enter medical school bur joined the Army instead. Served one hitch and excused himself to return to civilian life and a career of writing and exploring.

Has written under 23 or more pseudonyms, and is known better as Karl von Mueller, Dean Miller (his real name) or Deek Gladson, the latter being a corruption of his initials and his wife's maiden name, Gladyce Johnson. Has authored numerous books dealing with prospecting and treasure hunting. The TREASURE HUNTER'S MANUAL series comprise his best known books of the adventure field. Started Exanirno Establishment in 1964, as a non-profit publishing firm. Expanded into metal detectors during the fall of that year, and the firm now supplies the professional field in treasure hunting and mining with a complete line of equipment. New books now being printed, or in the process of being completed are: TREASURE OF THE VALLEY OF SECRETS (the documented story of a genuine cave of gold in the Sangre de Cristo mountains), the GOLD DREDGER'S MANUAL (a technical how-to-do -it book for the beginner as well as for the experienced suction dredge operator), ENCYCLOPEDIA OF BURIED TREASURE AND PROSPECTING (a greatly enlarged 2nd edition of the original Encyclopedia of Treasure), THE TREASURE SIGN MANUAL (a completely new dictionary of treasure signs which include hobo, outlaw, Indian, Spanish, Church and other signs), detector manuals (a series of metal detector manuals that provide complex details of individual circuits and extensive how-to-use-them information), and THE DOWSERS MANUAL (a complete treatment of the dowsing or divining field around the world). In addition, negotiations are underway for reprinting the seven published TREASURE HUNTER'S MANUALS, of which all are currently out of print. The eighth edition is approximately half done, and will be published late in 1971.

Professionally employed for about 20 years as a consulting engineer and technical writer in hydraulics, pneumatics, and electronics. Licensed amateur radio operator with call letters, WKLJ. Worked as cardcarrying journeyman, carpenter, electrician and machinist. Featured on local radio and TV shows on both network and local stations. Featured in numerous newspapers and periodicals under different pseudonyms over period of 30 years. Fraternal and professional affiliations have included A.F. & A. M., B.P.O.E., F.O.E., I.R.E., Circle of Companions, carpenters, machinists and electrician's unions, Western Mining Council, and honorary member of numerous prospecting and treasure hunting clubs. Organizer or member of numerous mining groups in Mexico, the U.S., and Canada. Pioneer of high altitude suction dredging and consultant to various governmental agencies on dredging. Publisher of NATIONAL PROSPECTORS GAZETTE & TREASURE HUNTER'S NEWS, EXANIMO EXPRESS, ADVENTURE BULLETIN, CoC NEWSLETTER, and the MINE/TREASURE INFORMATION BULLETINS.

Solved the LUE map, 1957, for one location. Map has since been solved for seven possible locations; four of them have been worked and treasure removed. Was first author to document and write about traffic of gold and silver to Mexico and New Orleans by Aztecs, Spanish, French and the Padres. Was first author to direct attention to the Indian slave trade as it related to treasure, and to provide a working hypothesis for locating old mines by researching slave markets. Was first in field of treasure hunting to expose the traffic in skeletons from old Spanish mines to museums and tourists traps. With Hardrock Hammond, promoted first treasure hunter's convention in the world, at Fawnskin and Big Bear Lake, California, 1956, the Associated Geographers of America. With Hardrock Hammond, reorganized the defunct KAFAN into the Circle of Companions. and was its first president in 1954. This is the largest professional Treasure club in the world. as president 1959-1962. and 1967 to 1970. Membership is now 252. from all over the world. Has accumulated one of the largest collections of valuable metals. coin. artifacts and relics which has been found exclusively by the treasure hunting fraternity. These items are now on display at Exanirno Headquarters; Segundo. Colorado.
Last edited: