Nov 22, 2013
9,180
16,378
🥇 Banner finds
🏆 Honorable Mentions:
Detector(s) used

Garrett AT Pro, AT Max, Minelab
Equinox 800
Primary Interest:

Metal Detecting
My first gold EVER!!!! and baby it is a freakin HONKER.

I pride myself in being a land hunter, but am branching out into areas the ol' ACE 350 wont dare tread..... Yes, this beauty was found with the AT Pro, with help from my RTG scoop.
It is the biggest ring I have ever seen....I don't have a scale, but it weighs damn near half a pound!

It is 5X the size of my wedding ring, 18K!!!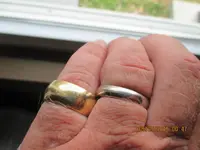 There is an inscription, and with that being said, I will make every effort to find its rightful owner.
Thanks for looking!