I went to two different locations today and came up with two items that have me baffled. (Don't laugh, I'm easily baffled. It's more sad than funny...)
The first item was found near the bank of a river where there was Native American activity, but there's also been a public park at the same location since the 1950's, so I can't really narrow down the age of it. It is made of copper or bronze and is hollow inside. There are no writings or numbers anywhere on it. I've got pictures of it from several different angles (for different orientations) below: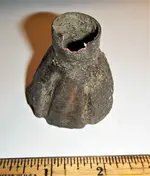 The second item was found at the site of an old homestead, where I've found various items dating from the 1860's through the early part of the 19th century. It is made of iron and is concave with four tabs on the back (three are broken off). The word "Lloyd" is on the front, raised letters. See pics below: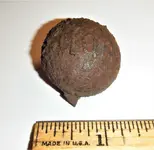 Any help on either of these would be greatly appreciated! Thanks!