Mar 20, 2012
458
637
🥇 Banner finds
🏆 Honorable Mentions:
Detector(s) used

Garrett AT Gold and AT Pro
Primary Interest:

Metal Detecting
Hey folks, I am pretty excited to say that I think I have dug what appears to be an exploded cannon barrel fragment!
***EDIT***
CANNON FRAGMENT CONFIRMED!!!!!!!! Thanks THECANNONBALLGUY for an excellent ID and narrative!
I was hunting in Mebane, NC in a yard where an old home once stood and I got this iffy signal on my Garrett AT-Pro(bouncing from iron to silver dollar) and I decided to dig it. Boy am I glad I did. I finally hit some metal at about 9" down, and started carving around this massive chunk of iron with my worn out Lesche. After about ten minutes of hard core digging, I could finally get my hands on it and tug. It was cemented in the clay. I went to the neighbor's house and borrowed a pry bar, because I just had to see what this thick, solid chunk of iron was. Normally if I dig down that deep and see that it is a plow point, I will cover it up, but this had me curious. After prying on it a few different ways with the prybar, I had it loose in the hole, and had to widen the plug at the top so it would fit through. That is when I laid it up on the dirt pile and the thought ran through my head, could this be a cannon barrel fragment? The inside of it was round and smooth like a pipe, but the walls of the pipe would be 3"+, weighing AT LEAST 30 pounds. I showed it to the property owner and he was unsure but didn't reject the idea of it being a cannon.
I can't see what else it could be. I do not have an explanation for where it was found, but it was so deep, it had for sure been there for a while. I am confused as to why a cannon would have been on this property, much less have been fired, and exploded! I am open to discussion if you guys and gals do not agree with my analysis. (it just looks too beefy to be farm junk!)
Other finds for the evening included a small brass cuff link or button, an old "tombac" cow bell, and a early to mid 1800s toe tap, with fragments of leather and nails!
Thanks for reading, and enjoy the pictures!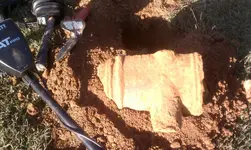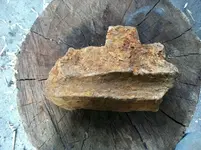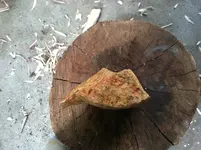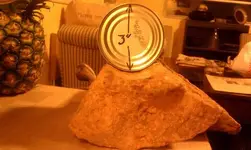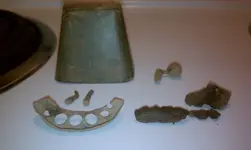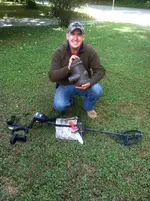 Last edited: