Aug 6, 2018
483
1,347
Detector(s) used

Bounty hunter land ranger pro, garrett carrot
Primary Interest:

Metal Detecting
MASSIVE SILVER brooch, Amazing Relics and MORE!!!
So it's been a long, long while since I've posted anything!!! So in stead of making a post about each treasure find I'm mashing them all together. Sorry pics aren't going to be as nice this time.
At the 1800's place I found a glass button and marble (anyone know the ages for these two?), a COMPLETE ink bottle and an almost complete blue bottle. I found a military button, a harmonica reed, a buckle, an old cork, hook and and iron buckle. Here are the photos: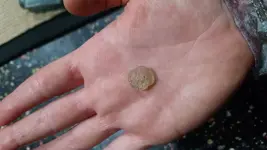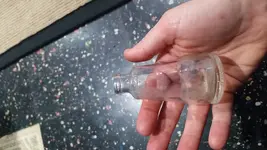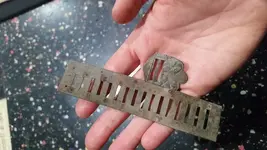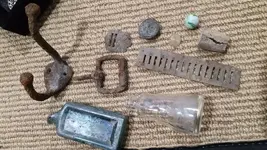 Next I found these 4 police buttons and Canada Post Office buttons all close together buried deep in someone's gravel driveway (I got permission). Not sure how that happened!!! Maybe the police officer was having a fight with the mail man and both lost their buttons

Lol here they are: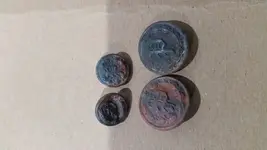 Next we have 2 game tokens and a Viking bead (modern). I found them in Gimli where they always (not this year cuz of covid) have a Viking Village set up with acts and stuff. Also have a silver 1960 quarter found at my friends house in Gimli.... she let me have it: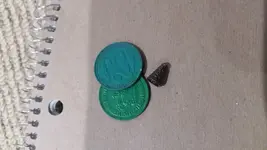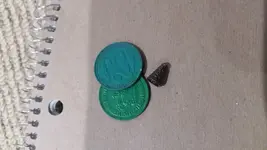 Here is a hefty silver brooch found at a yard sale for 50 cents and a small silver ring I found in the junk my Grama was giving us (no offense Grama lol):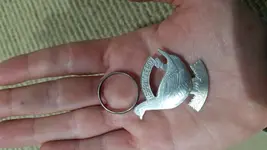 Last but not least is a silver dime found in my sisters jar (she made me pay her a buck to keep it lol), and my neighbour who I mow the lawn for is moving so he gave me a ton of change. So not only did I get an extra $21 bucks but also a few wheats and 2 older canadian pennies. Oldest wheat was 1925!!! 95 years old!!!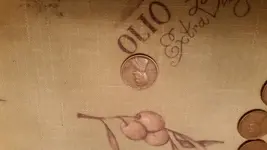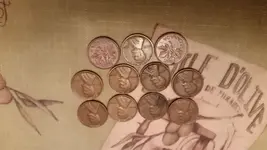 Thanks for getting this far down!! If you know anything about the old marble and glass button (first batch of pics) please let me know!! HH
Last edited: