Aug 12, 2012
1,371
2,990
🥇 Banner finds
Primary Interest:

All Treasure Hunting
I found this 1877 Indian Head Cent this past Saturday morning on my second visit to a new site.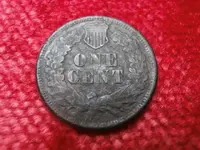 A colonial-period house once stood at the site which offered easy short cut grass for hunting, but little was found on my first 4-5 hour search a few weeks ago. I recovered a tombac button, a musket ball, a Wheat penny, and a Buffalo nickel. Saturday's search was offering equally dismal results consisting of a modern dime (several inches deep

), a quarter, and a foreign coin recovered over a half-hour search, so I started working my way back to the car. I had other sites to search that morning. I was hoping for one more high-tone signal before leaving, and soon passed over just such a signal about 6" deep. I cut a plug and removed an Indian Head cent with far less corrosion in comparison to what I typically encounter. I gave the coin a light rub and was surprised with the date of 1877. I knew the key date for the Indian Head series was somewhere in the 1870's neighborhood. "Hmmmmm, was it 1872, 1874, or 1877? Did I have the big key date? Nahhhhh! The key date is 1874. If it's 1877, than I must be misreading the dirt-encrusted date. It's probably 1879."
Anyway, I found the coin about 8:00 a.m. and enjoyed considering the possibilities throughout the remainder of the day while running errands, attending to family obligations, and so forth. In the late afternoon, I finally got home and took a closer look at the coin. It was clearly dated 1877; all finished with Step One. Going to Step Two, I got out my old 2006 Red Book and scanned through the dates, "1877 – Good-4 Condition (near bottom of the grading scale = $575, Very Good-8 = $750, Fine-12 =$1000. I'm not one to overly focus on the value of finds, but there's some pride in finding a coin that garners such prices, as it reflects the coin's importance as the big key date of a popular coin series. I'm primarily interested in colonial-period finds – the big coppers; however, I'm also a coin collector, so finding a key date is a thrill.

I've dug hundreds of big coppers and Indian Head cents over the years, but I had no expectation of ever finding the 1877 key date Indian Head cent. Most of my recovered Indian Head cents are too corroded for positive dating, so I was very lucky to recover the key date coin with a tolerable amount of corrosion and a fair amount of detail. The coin is clearly a dug specimen with corrosion. It's worth a fraction of the cost for a non-dug specimen, but I'll take it and why not? How could I beat it? I don't think I'll being digging up any 1877 Indian Head cents in Mint State-Red condition, already slabbed as it comes out of the hole.
Good Hunting!
Last edited: