Feb 21, 2013
4,659
5,762
🥇 Banner finds
🏆 Honorable Mentions:
Detector(s) used

Teknetics T2 SE (DST)
Spare Teknetics T2 SE (backup)
15" T2 coil
Pro-Pointer
Bounty Hunter Pioneer 202
Fisher F2
Fisher F-Point
Primary Interest:

Other
Anyways, Today I headed out to a place that did not look that good. I have tried with my T2 before but never found much but shotgun shells and pulltabs but gave it a try today. I decided to bring someone along and let them use my T2 while I used my old Fisher F2 from two years ago (did I mention that it goes crazy and will frantically beep due to the coil cable being lose). Anyways, I was not expecting much when I got a signal right in the middle of the biggest patch of poison ivy in the whole place. I figured it was worth it and dug. I battled through roots and leaves (which unfortunately were poison ivy leaves) after some digging the find was out. I let my hunting partner use the pinpointer which is already not much use considering it was a freebie that came with the metal detector (I'm getting my Pro-Pointer in the mail this Thursday

). Anyways, I dig out a weird piece of metal, I quickly can tell it's a sundial. I figure it's not much and probably 1930's garden. I finish the hunt with a handful of pulltabs, some shotgun shells, beer cans, a cool 1980's coke bottle which I kept

, and a nice pair of hedgeclippers that were on the surface laying against a log that are sure to go to good use. Anyways, after I got home I saw that sundial looks to be colonial and made of pewter and made best relic of the year on some website. I was thrilled after reading that what looked like a poor find is really something great. I guess that what I have always told people I metal detect is true, it does not matter how bad a place is or how poor you may think your metal detector is, good finds can still pop up out of no where.
It's in very bad condition, to the point of where parts of the edge are crumbling in my hand but it is still all there.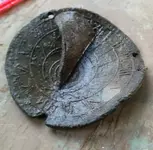 Update: Here is a better photo
I just put the glue and water solution on it, it looks pretty good. I will post photos of it's
Here it is during elmer's glue cleaning...
display case soon.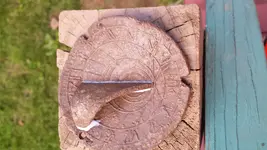 Last edited: