Feb 26, 2020
428
1,091
Detector(s) used

Garrett AT Pro, Minelab CTX 3030
Primary Interest:

All Treasure Hunting
Well i finally got around to hitting the beach up this weekend. i am way more interested in historical items. But with the proximity of the fort being so close, i thought what the heck. It could be the best of both worlds. Since the state wont let me metal detect any where inside the historic site. i thought this is as close as i'm going to get.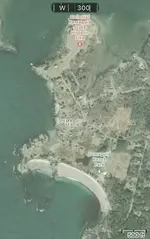 The "Castle" was a popular tourist attraction on the Pemaquid Peninsula in the early 1900s. It was a 1908 reconstruction of the stone western tower of Fort William Henry, built to protect English settlers from strikes by Wabanaki people and their French allies who had interests in the land and resources the English were attempting to profit upon.
Fort William Henry was the second of three forts built at this location. Fort Charles (1677-89) and Fort William Henry were both taken by the enemy and destroyed. Fort Frederick, the third fort, was built from the ruins of Fort William Henry in 1729, decommissioned in 1759, and later dismantled. Archaeologists have undertaken excavations at the site for decades
This is one of oldest places in maine, just look at some of the stuff they have found.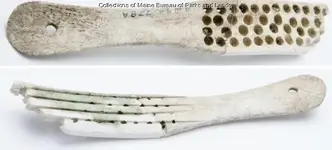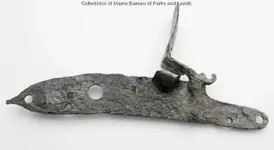 bone hair brush from the 1600's////////////// cross guard for plugged bayonet 1690//////////////// native american point 5000 bce///////////lockplate from flintlock musket 1690
1910
One signal was so faint, and would only ring up swinging one way. i know most wouldnt dig it, but ive gotten lucky on faint signals before so I started digging. This thing was so deep i almost gave up trying to find it twice. but the signal kept getting stronger, so i continued. I had to dig a second hole just to drain the water from my primary hole. This thing was at least 2 feet down, maybe closer to 3. Finally there was no longer a signal coming from the hole. i knew it was in the spoil pile somewhere. A pocket watch! Probably why i could hear it so deep, because its a bigger item. inside of cover says "trade Dueber mark Canton O USA" with a serial number "3188483"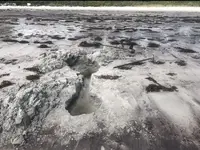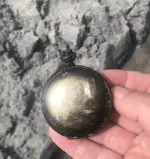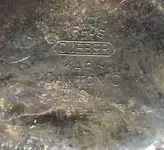 Since it was one of my first saltwater detecting trips. i didn't have my detector dialed in the way i like. so i was just digging most signals. im glad to, because just when i thought i was digging up another pull tap or mangled piece of aluminum, bam a ring. Turned out to be a 14k white gold wedding band. My first Gold! hurray. im way more into relic hunting but its nice to find some gold. i would of preferred a coin, but im not complaining. there were no initials or anything on the inside besides the karat and possibly jewelers mark. cant really tell whats after the 14k.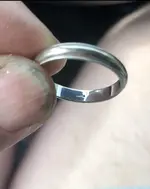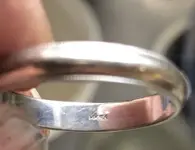 not bad for my first real beach run.