Gold Member

And I thought beaches were only good for sinkers and clad.
Who would have thought?
Anyway I went to beaches in Delaware, Maryland and Virginia in the last week. I visited six different spots. Most were pretty clean, unfortunately. I got no jewelry whatsoever. Once upon a time ago I had taken my small boat along the bay and the Potomac (not telling where this was found, sorry!), and had spotted some conceivable house collapses from the boat and from beaching it and finding some early glass and stuff along the banks. Well, over the last few days I went to three beaches. The first one was known for shark's teeth and I didn't do very well, got a few small ones. Second beach has larger teeth but I only found a few Hemiprisis teeth and the "fake" one I posted on previously.
The last beach had been hit by another MD'er. So I went to plan "B" and started looking closer to the parking lot and trail leading to the beach. I then started getting pull tabs, aluminum foil, a couple sinkers, and just a few pieces of clad. I then found one silver US coin about the size of a dime, but it was so far gone from the salt water it crumbled to almost dust! It must have been old, in order to do that. The silver coins we get at beaches are ususally corroded beyond redemption.
I was getting ready to leave and decided to use the Deus' small size loop to detect between a rock and a hard spot. I got a decent but aluminum foil range, but dug it anyway, I generally do this. Look what popped up. Of course, this was the day I had left my cell at my house, so I felt almost nekked without it and couldn't do an in situ pic. The following day I did get some nice pics from a nearby site in Virginia, here's some cool cliffs!
Toy from a nearby spot: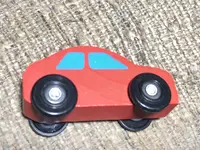 Sharks tooth from a visit a few years ago: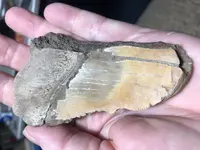 Cliffs along the river, about 20 miles away: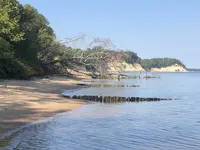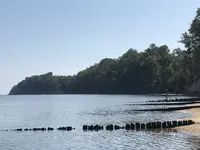 Since Deus did that newest upgrade it rocks in salt water.