Oct 15, 2013
8,408
8,284
🥇 Banner finds
Detector(s) used

Teknetics T2 SE w/15' SEF Coil/ Minelab GPX 4500/2 Garrett Pro Pointers/3 Sets Killer B Headphones/ Koss Headphones/ Detekniy Wireless headphone Adapter
Primary Interest:

All Treasure Hunting
This summer has been a tough one so far with a ridiculous work load and zero time to do much hunting. This weekend I got a rare opportunity to get out for a couple days. My boss told me to take Friday off and relax for a weekend. I asked Brad (OutdoorAdv) if he wanted to come up. It's a 10 hour drive so I never expected he'd be able to. Amazingly he's working in Ct next week so he was able to come up on Friday and we hunted the hell out of a few of my spots. Let me start by saying that Brad is a GREAT GUY!!!! Genuine and respectful and has a level of respect for history that is rarely seen. I have to say that I was a bit nervous and really wanted him to have a great experience here in Maine. He showed up with an killer electrolysis setup that he built for me. He also brought some gear for pit digging which I've always wanted to try. Now for the hunt. Friday we went to an area that contains 4 colonial cabin sites that were settled for a short time. None of these have cellar holes and they are all virgin. If not for a small iron patch you would never know there was ever a home there. The first site was one that I have hammered to death. Brad found one keeper there and Abe found nothing if I remember correctly. The next site gave up a few random keepers. The third was one that I'd never found before. I walked directly into an iron patch and quickly dug a complete pewter rat tail spoon. I dug a set of links right next to the spoon. About 40' away I found a really nice complete shoe buckle. I also dug two fragments of a pewter shoe buckle. These babies don't show up too often. On the way back to the truck we stopped at a small cabin site that I'd briefly detected before. This is where my find of the weekend came. I got a great high tone right on the edge of the old road. Out came a copper coin that looked like it had lots of designs and detail. I didn't think much of it until I got it home.
Day two was a trip to my War of 1812 site. We dug a pit that I had found and also did a lot of detecting. The pit gave up a few cool pieces of ceramic and also a couple of buttons. The detecting was a whole different ballgame. Brad found a small 20'x20' patch and we collectively dug 9 marked pewters I believe. Brad dug a pile of em. It was awesome. I was and am still so happy that he got all of those awesome early military buttons. I was happier seeing his excitement then I was to dig one myself. It was an amazing day!!!!
Last night ended with about 8 lbs of sushi and pewter button cleaning. Today ended with massive lobster rolls. In between all of this Brad showed me how to do the electrolysis. We chose a couple ugly pieces of rusty iron to do. I am shocked at how great these ax heads came out. After the electrolysis he waxed them for me. They are incredible....and I have a pile of rusty iron ready for the tank.
I can't begin to express how much fun I had this weekend. A great person to hunt with, some amazing finds and some great food. Perfect I say.
Now for the finds. I really would like more info on this coin. From what I understand it's related to King Philip iv. It's Spanish and the is counter marked with the BX. I can't find much info at all but would love to know more. This is my first 1600s copper and one of the coolest coins I've found. The detail is fantastic on it. Thanks for looking guys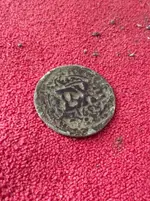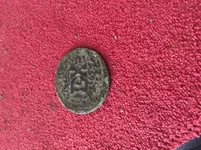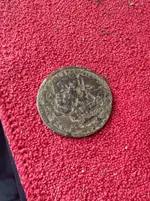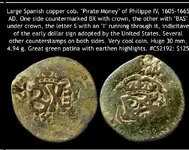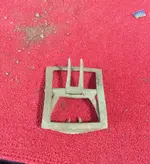 This shoe buckle has a great story. I found the big fragments a couple months ago. Friday Brad dug another piece and I dug another piece. Amazingly when we got home the pieces all fit together to form a complete frame.
War of 1812 Finds. Brad crushed me at this site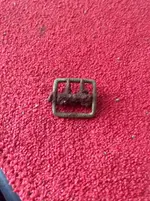 These 1600s items were found a few weeks ago.banither Latten spoon and a great marked pipe stem that's quite early. I was able to find the mark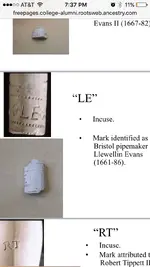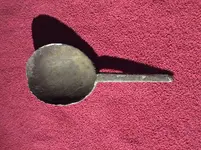 The electrolysis/wax items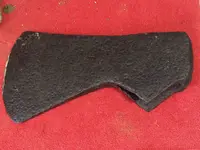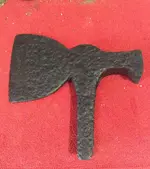 Pit ceramics