Aug 12, 2012
1,371
2,990
🥇 Banner finds
Primary Interest:

All Treasure Hunting
I found my first Mass Silver back in 2006, an Oak Tree shilling beauty (my avatar). Two more coins followed - a cut piece from another shilling and an Oak Tree two-pence sadly holed. Last weekend, I pulled my fourth coin, a 1652 Pine Tree three-pence from a farm field, and this coin had thankfully been lost before suffering any awful disfigurement. I had pulled a few musket balls, a lead disc and other lead fragments, an ox shoe, and a thick piece of brass of obvious age over the course of a 3+ hour hunt. I observed lots of surface finds where I started at the far end of the field - black glass, brick, mortar with clam shell filler, stoneware, and clay pipe stems.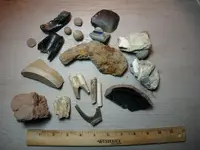 I was approaching the end of my morning hunt and figured that a few hours out on a sunny morning was the most I could expect from my trip, but then my Deus hit upon a strong, solid, medium-toned signal. It was only a few inches deep and looked at first to be a button, but then I saw the telltale beaded ring and tree along with the faint dating on the reverse side — Mass Silver!



The coin was exceedingly dark from heavy oxidation and required 3-4 electrolysis cooks each lasting a minute or so to treat. I'm unlikely to push it any further — better to leave well enough alone.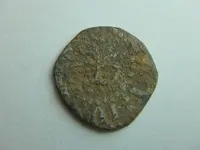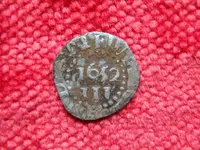 Before and after photos for results on use of electrolysis.
Some years I'm able to pull off an exceptional find, and other years it just doesn't happen. This year I got it done early!
I wish to post some add-on recoveries from last year. I delayed posting these because these early 17th century iron artifacts required a good deal of conservation work over the winter, and before and after images are needed to appreciate these finds.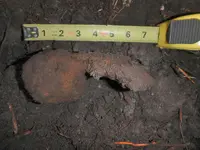 The this large ferrous concretion was quite puzzling, but electrolysis would eventually reveal its purpose.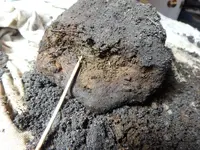 Much of the surface dirty was best removed with a toothpick.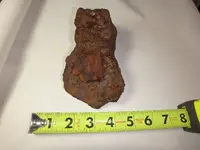 Dirt all removed and ready for electrolysis.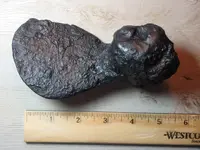 Electrolysis revealed a rounded blade for a grub hoe, but there was no eyelet for a wood handle. The heal of the hoe is solid iron.
Two grub hoes from the same site - one English made with an eyelet for a wood handle and one Native made without a hole for a handle.
I spared no amount of effort for the best possible outcome with electrolysis followed my immersion in hot microcrystalline wax. I judged this work to be worth the effort, as these items were recovered from a Native American village in Southern New England dating back to the mid-to-late 17th century. Local tribes readily took to use of iron and brass with the earliest arrivals of the English and French. 12,000 years of using stone and other natural materials for weapons, tools, jewelry, and other implements, vanished in a generation. Evidence of metal working to repair and refashion iron and brass material shave been found by archaeologists, but these two items suggests that native blacksmiths were forging entirely new tools, knives and other products from recast iron. Their crude craftsmanship of these two recovered items, a grub hoe and a knife, suggest that they were indeed struggling and did not yet fully possess the necessary skill set, but they were certainly making progress. The native blacksmith apparently failed to work an eyelet for attaching a wood handle so the back end was filled solid
and fitted for grasping with one hand.
No matter the end result, it was better than digging with a clam shell. Similarly, the knife is very crude with a blade tip far too thick; the blade is not tapered. It's native construction is also seen in the use of an integral handle made of extra thick stock. An English knife would have a composite blade made of wood or bone.
I count myself as being very fortunate to live in a part of the US that has an old and rich history. One of my past banner finds, a 1693 Arabian silver coin from Yemen, was covered by the Associated Press on April 1st, owing to the coin's connection to Red Sea piracy, specifically the robbery of a rich Mughal ship, the Ganj-i-sawai, by pirate Henry Every in 1695.





The story went out on the AP's international wire service and received more attention than I had ever thought possible largely owing to my extensive research proving that Henry Every came to the American Colonies while being sought by the English crown as the subject of the first worldwide manhunt. April was one crazy month. It was covered by online and print media in Smithsonian Magazine, the Washington Post, papers all over the US, and overseas in England, Ireland, Italy, Saudi Arabia, Israel, China, Japan, Taiwan, New Zealand, and elsewhere. I did a half-dozen interviews in the first two days of the story making headlines and nationwide interviews in the US on NPR and in Canada on the CBC.
If interested, a Goggle search link for the media coverage is as follows:
https://www.google.com/search?q=henry+every+pirate+coin+found&rlz=1C1CHBF_enUS921US921&oq=henry+every+pirate+coin+found&aqs=chrome..69i57j69i59l3j35i39j69i60.11591j0j15&sourceid=chrome&ie=UTF-8
It was the experience of a lifetime, so I wanted to share my story with everyone on T-Net, where I first posted my Red Sea pirate coin recovery way back in 2014. Back then it was the first complete coin to be found in the region. The total count for the article was at 16 silver Arabian coins found in Southern New England, and all dating no later than Henry Every's capture of Ganj-i-Sawai off the coast of India in 1695. Detectorists account for 15 of the recovered coins, while the remaining specimen was found at an archaeological excavation of a 17th century homestead site in Connecticut. I've had to contend with some cynics since the story ran, and that's no problem. I recently signed with a literary agent to co-author a book that will present all the evidence both on the coins' unique provenance and a new history of Henry Every's infamous voyage aboard the pirate ship Fancy



The book should be out by next year.
So, I've got a great coin recovery on the board for 2021, and now it's time to get writing.
Good Hunting to All,
STC — Jim Bailey