Thread Starter

Thread starter
Hey BDD how did they read your book? Is it available?
The first thing I want to say is I am not on here promoting a book. Before joining TNET I had made the decision to put everything down in writing as I lead a somewhat dangerous life and if I were to hit my head too hard one too many times I did not want to forget what has happened. During the process of the writing I joined TNET. For a very short period I had my book titled "My Treasure Story" available thru my own website as an E-book. I never marketed it and very few people downloaded it. I decided that I probably put too much information in it and because my treasure story has continued to this day, it is out-of-date. I will probably sit down sometime and bring it up to date. Chances are I will not release it until I find a large treasure.
I have no problem discussing pretty much anything that I wrote. Salvor6 read it and vor read it. There were also about 60 pictures in it. I will post a few.
This is the 1977 Smokey and the Bandit Trans am that Ovid and I did most of our trips in. We still have it and bought it 36 years ago.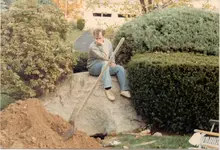 My first dig at the house in New Jersey for the U-853 diamonds.
Ovid Arnold and his collection of pendulums.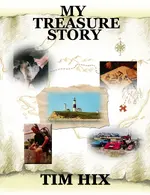 The cover of my book.